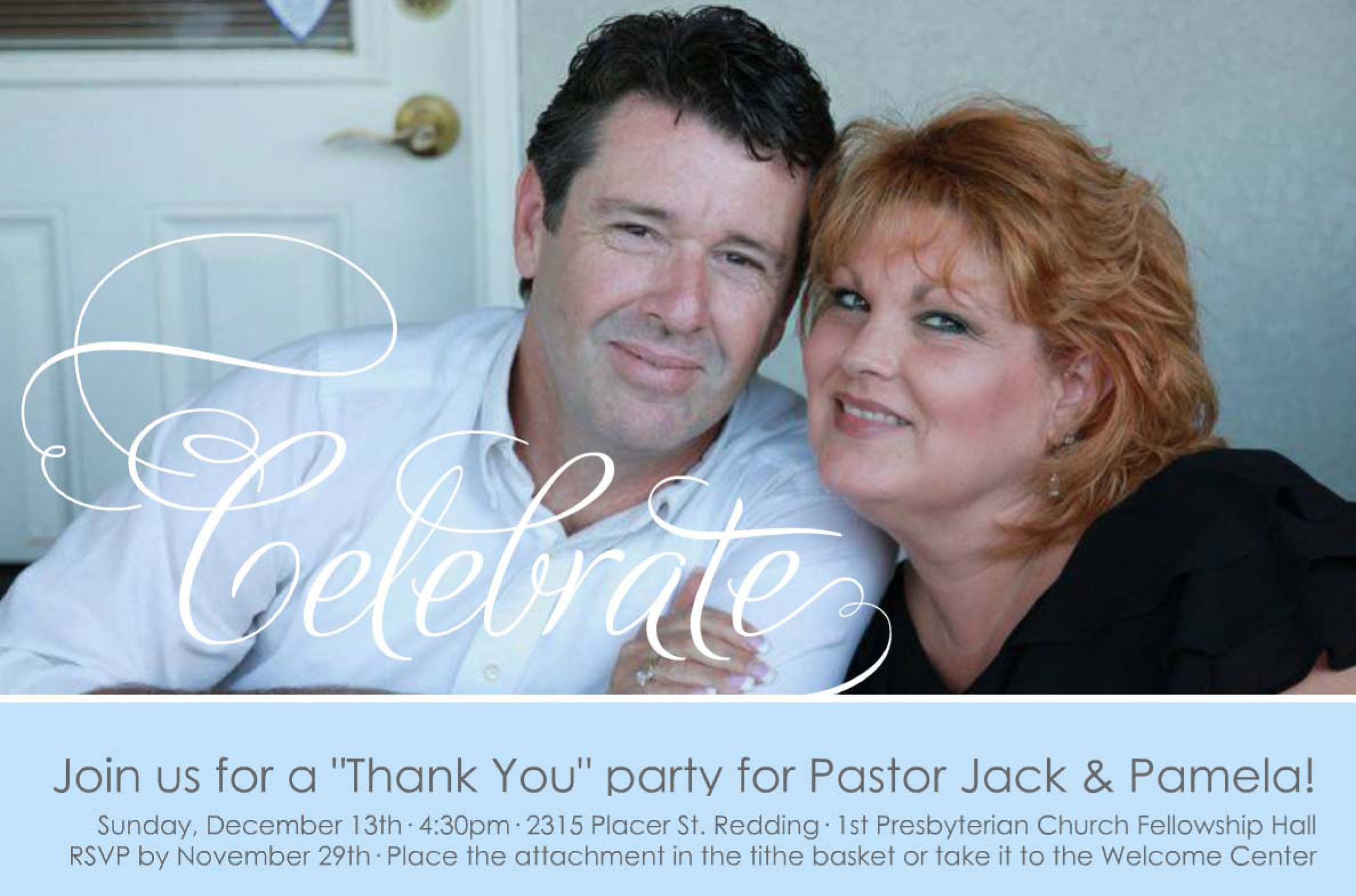 The Thank You party for Pastor Jack and Pamela was a HUGE success! Thank you so much for attending everyone! We had a great time, and so did our beloved pastors.
Some have asked to see the City Church Pop-Quiz questions and answers, so here they are, with a few extras thrown in! How many answers do YOU know???
In what year did the City Church begin?
A: 1997
What was the original name of the City Church?
A: River Valley
How many buildings have we occupied?
A: 9
How many can you name?
A:
1. Witt house
2. North Bechelli office
3. First Nazarene Church
4. Pleasant St.
5. Cascade Theatre
6. Ballet Studio
7. First Presbyterian Church
8. 7th Day Adventist Church
9. Bonnyview Campus
What is the "R" word in City Church culture?
A: "Relationship"
What was our mission before Love Grow Serve?
A: C. A. R. E.
What did CARE stand for?
A: Communicate Hope, Advance Discipleship, Restore People & Pathways, Engage Gift Harvesters
What were small groups first called?
A: Life Streams
What is the name of Pastor Jack's first church?
A: Christian Life Center (CLC)
Who currently attends the City Church that also attended CLC?
A: Brad & Cheryl Fulton
How many people relocated to plant the City Church?
A: 10
How many can you name?
A: Jack, Pamela, Jarred, Katelyn, Megan, Phil, Kristin, Katrina, Sara, Selima
What is the name of our "mother ship" church in Aptos?
A: The Coastlands
How many City Church members do we have that also used to attend The Coastlands?
A: 7
Who are they?
A: Jack, Pamela, Jarred, Tiffany, Dave, Ruby, Katrina
What year did  Pastor Jack & Mike Logan start Qadash?
A: 2005
What animal did Pamela used to collect as figurines, magnets, etc?
A: Pigs (No pig gifts, please)  😉
What kind of business did Pastor Jack own?
A: Drapery
What was the name of the business that Pamela owned?
A: TCBY
What is Pastor Jack's life verse?
A: Jeremiah 6:16
In what area did Jack & Pamela grow up?
A: Santa Cruz & Watsonville
How old was PJ when he & Pamela first dated?
A: 17! (was that even legal??)
What is the name of Pastor Jack and Pamela's pastor?
A: Daniel Brown
How many of the 5 Witt middle names can you name?
A:
Jack Curtis
Pamela Gail
Jarred Curtis
Katelyn Elise
Megan Cerise
If you include marriage, in-law relationships, & blood relatives, who in this room is related to Jack & Pam by "6 degrees of separation"?
A: Amber Talavera
How?
A: Katelyn – Josh – Cheryl – Mel – Frank – Amber
What is Pastor Jack's favorite animal?
A: Trick question… Pastor Jack doesn't have a favorite animal! But he has a LEAST favorite animal! Which is, of course, cats!
What cumbersome nickname does he have for cats?
A: "Demons in cat suits"
How'd you do???