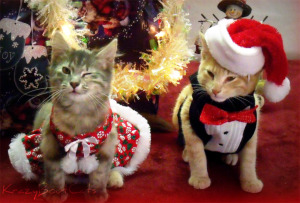 Merry Christmas!
I trust you are doing well and growing in your faith in Jesus.  I wanted to get out a quick note to let you know about the opportunities that are right in front of us and occurring around the Christmas season.  There are three events approaching quickly that I wanted to highlight.
This Saturday at 10:00am there is a Women's Ministry brunch that apparently includes wearing an ugly Christmas sweater.  To be honest, I don't believe I've ever seen a non-ugly Christmas sweater, so that category for me is wide open.   You ladies will have a great time together.
This coming Sunday morning at the conclusion of our 11:00 AM service, we will be baptizing people in water. If you want to participate in this spiritually important step of following Jesus, bring a towel, a swimsuit, and a T-shirt that you can wear for the baptism.  It is going to be awesome!
That night, at 6:00 we will be celebrating the graduation of students from our leadership institute here in Redding and the first class from the satellite program in Red Bluff. Everyone is welcome to attend, so if you have been curious about what Qadash is and does, this is an excellent way to find that out and support some amazing students as well.
On 12/11 Encore will be hosting their Christmas party and white elephant gift exchange. If you are over 45 and have not attended one of these parties, you are missing something pretty fun.
Lastly, I wanted to give you a bit more information on our December 21st Christmas service.  The theme of that 11:00am service is "Unto us… Unto me."  In addition to some usual components to that service we will be focusing on the gift of children that God has given into families.  God's gift of His Son presents us with the opportunity of salvation as we receive that gift by faith.  God's gift of children presents us with certain responsibilities that we accept and dedicate ourselves to do by the power of the Holy Spirit and with the support of the church.  Our plans are to provide a large scale child dedication that includes newborns and children up to age 11.  I know many parents who came to Christ well after having children and did not have the opportunity to make this commitment and offer their children in dedication to God.  We have put something together for parents that will help describe the purpose and process of child dedication.  You can find this by following this web-link https://cc4square.org/child-dedications/ or hard copies will be available in the welcome center beginning this Sunday.  We do need to have an idea of how many children will be included in this dedication ahead of time, so please call the church office to let us know or sign up at the welcome center.
Additionally, in that same service we will be praying over and offering words of blessing over each child in attendance.  This will include all children up to age 18.  Families will stand together and bless each child speaking prepared blessings and spontaneous words over them.  Groups of elder-leaders will be ready to stand in surrogate roles speaking blessing over youth who are in attendance without their parents or other family.  We have put together a simple guide for parents to use in preparing and writing out these blessings over their children.  You can find this by following this web-link https://cc4square.org/blessing-your-children/ or hard copies of this guide will also be available in the welcome center beginning this Sunday.
I believe that is it for now.  Look for another letter from me in the last week of this month that will outline our Seek Week dates and theme for 2015, and information on what I think are exciting changes and developments that we will experience early in the New Year.
Grace and peace to you,
Pastor Jack